Curious to know what is Online Reputation Management and how you can use it in your favor?
"Online Reputation Management." Also, called ORM. This one is a confusing term. Some wonder that it has something to do with social media, some think it is something regarding public relations. While others don't have any clue about how it can impact their overall business and its reputation. 
In this blog, I'm going to discuss the importance of Online Reputation Management. We must never underestimate the value of Online Reputation Management in today's intense competition. Monitoring Online Reputation has become an absolute necessity. Each organization whether big or small can take advantage of Online Reputation Management. 
Truth be told, every organization has an online reputation. How well you can manage yours is the thing. 
Okay, tell me one thing honestly, have you ever searched your company's name on Google? 
What do you see then?
A complimentary positive review or a negative one? 
What Exactly Is Online Reputation And How You Manage It?
As already said in the previous section, every organization has an online reputation. Not only an organization. Every blogger, social media influencer, big e-commerce firm… Read this guide if you are struggling to attract customers to your e-commerce store. Basically, everyone has an online reputation. 
Your Company's online reputation determines how your business will be perceived by people when it is searched by people or when someone comes across it suddenly. 
The agenda of Online Reputation Management is to show your business in the best way possible. ORM impacts what information will the user find about your business. 
For instance, suppose there is a company who knows nothing regarding Online Reputation Management. They don't realize that people are leaving negative comments, feedbacks on their website and social sites. They never noticed it. 
A visitor who visited their Facebook page saw those harsh comments. 
Do you think they will ever do business with such an organization that receives so many negative reviews? 
That is why it is important to monitor your business Online Reputation. 
Do you know what the issue is?
Almost all organizations and people realize the importance of it when they need it the most. They need it the most – when the catastrophe already happened. A negative review on Google my business account, or Facebook page. Unpleasant and critical feedback on their business website regarding their services, etc. 
Keep in mind, Online Reputation Management will work best in your favor when you implement the right strategies in your business way before you actually need it. 
That's the way to succeed through Online Reputation Management. 
What are people talking about you? What's the feeling out there? 
Well, Online Reputation Management is not just all about showing your business in the best light or reacting well to people when they appreciate your business, products, or services. Of course, these are important aspects. But Online Reputation Management is more than that. 
It's about realizing whether you should react or not. In case, the reaction is necessary. Then, when is the right time to do so. As there can be numerous instances when the reaction from your side is not necessary. Also, many-a-times a late reaction can cost you millions. 
The right way to manage Online Reputation is regularly keeping an eye on your public relations. Monitoring everything that is happening online. Of course, I understand it… Doing these things manually is definitely a tedious task. 
Thankfully there exists useful and appropriate tools that can solve this issue. I will be discussing these tools later in this guide. 
As far as  Online Reputation Management is concerned, there are basically two types of content for an organization to monitor. The first one is complaints and criticism from unhappy customers. You must calmly handle these annoyed customers and address their issues properly. These are not such big issues. As long as you are running your business ethically. These social media complaints will not do any damage. 
The other one is the types of contents that can damage your business reputation, sales in the long-term. These types of contents can gravely damage everything related to your business. These can make people hate you. Think about this, what if someone searches your business on Google and finds slander contents. 
This is what I am talking about.
These types of contents include hate sites, negative media coverage, etc. 
Initially, these kinds of things don't happen. Unless you are very popular and there exist people who want to defame you or your business. I just mentioned these for you to understand the various versions of Online Reputation Management.  
They Are Communicating About Your Business And You: Whether You Realize Or Not
A few years back, The Internet was quite different. Back then the companies were using old-school marketing strategies. They were not getting appropriate results nor were they engaging actively with their target audiences. Most of the companies didn't even know who their audiences were as old-school marketing strategies were not that advance. The Internet was not that much overly crowded. Websites were not that popular. Social media sites didn't have millions of active users. 
But now, the scenario is upside down. Now, having a business website is a must. Social sites like Facebook, Instagram is highly popular with millions of active users. Engaging with audiences has become a necessary part if you want to survive in this intense competition. Organizations have shifted from old-school marketing to digital marketing. Earlier, people were not technically active but now they are smart and active.
No matter how big or small your organization is people (clients, prospects, or say, everyone) is talking about you. They left a comment on your blog, they shared your infographic, they said something in your Instagram group, or they shared their experience with your business with someone. 
No matter what the scenario is, the bottom line, THEY ARE COMMUNICATING ABOUT YOU. It can be positive and it can be negative. But you cannot skip this one. If you think you can run a successful business without people's opinions, feedback, reviews. 
Then, my friend. It's high time. Think Again…!!!
Clarity Matters
"Be Transparent," you must have heard this term numerous times, isn't it? As a business in this intense competition, you must live by this rule. As engaging with your audiences in real-time matters. The other thing for you to do is open up to negative criticism and feedback publicity. For people to understand that you are hiding nothing from them. Everything about your business is transparent. 
What does Clarity i.e., Transparency mean?
Give importance to building genuine relationship rather than giving priority to selling

Make sure to respond to queries and issues on time

Engage actively with your audiences

Stay active on your social media accounts

Ask for feedback. And make improvements accordingly

Never hide criticism or negetive reviews. Rather than address them publically on time. 
Well, some of you might say that this one is a risky task. Well, truth be told if you are not being transparent then that's more perilous. 
Online Reputation Management Setbacks
                                                                             Image Credit: Business Insider
Well, I must say this is a blunder mistake. 
In February 2013, The famous American airlines sent an automated tweet to their disappointed customer. The issue here is, American Air greeted with a "Thank you for your support" tweet rather than apologizing. The airlines consciously or unconsciously rubbed salt into the wound of the customer. 
Do you think the customers will trust them again?
The airline company sadly made it very clear to the public that they were using automated tweets. 
Think about it… the people who will see this tweet. What impression they will have on their mind regarding the airline company?
It really creates a disturbing brand image. 
What Lesson You Must Learn From This Incident?
Of course, it is highly important… You must respond to your customers – especially irritated customers. But automating the response? That's not the right way to deal with it. When you do such stupidity. It creates a negative brand image. And there are high chances of negative Word-Of-Mouth to spread. No business can survive without customers. Then, what's the point of not taking care of them? 
As the competition online is intense, the power is with audiences. They can choose your business, and they can reject you as well. As there are numerous options for them to choose from. Make your customers your priority. And do everything that can help you to win their trust. This way, they will keep coming back to you. And positive Word-Of-Mouth will spread. 
Another example?
This one…
Another Online Marketing management blunder. 
This incident happened in January 2010. An annoyed customer criticized Dark Horse Cafe for their shortage of electrical outlets for laptops. From the image above, one can clearly see their hostile behavior. 
Another blunder mistake…
You must respond and communicate with your unhappy customers. But this is not the way to do it. Aggressive behavior doesn't work in the online space. 
If another visitor sees this tweet?
Do you even realize how damaging it can be for your business? This way, rest assured you will lose tons of customers. 
What Lesson You Must Learn From This Incident?
Back then… Numerous blogs reported this as a case of negative public relations. This is a sure method to lose your customers. Make sure to deal with your annoyed customers but with care. Step on their shoes and understand their pain. Then, proceed and provide an appropriate response. This is the way to succeed. 
If you know how to play the right cards. If you can act smartly. You can save your brand's Online Reputation at the last moment. "If there is a will, there's a way."
How?
Check Yourself – 
@KitchenAid Online Reputation Saved 
                                                                          Image Credit: Vendasta.com
In October 2012, one of the staff members of KitchenAid posted about President Obama's grandmother on KitchenAid's Twitter account. This is something that can be posted on the personal twitter handle of the staff member but was posted on the official Twitter account. These tweets were quickly deleted. But at the same time, numerous people noticed this as well. And after what followed was several back to back tweets from the Head of the brand. 
What lessons one must learn from this incident?
Truth be told, The head of the KitchenAid brand Cynthia Soledad is the savior who saved the brand. She did the sensible act at the right time – She apologized to everyone including the President. She even assured the readers that the appropriate action is taken by the company. 
It does not matter who you are if you have done a mistake. Apologize as soon as possible. 
The scenario above shows that taking the right measures at the right time. It is never too late. One can save the reputation of their brand. 
Online Reputation Management Done Right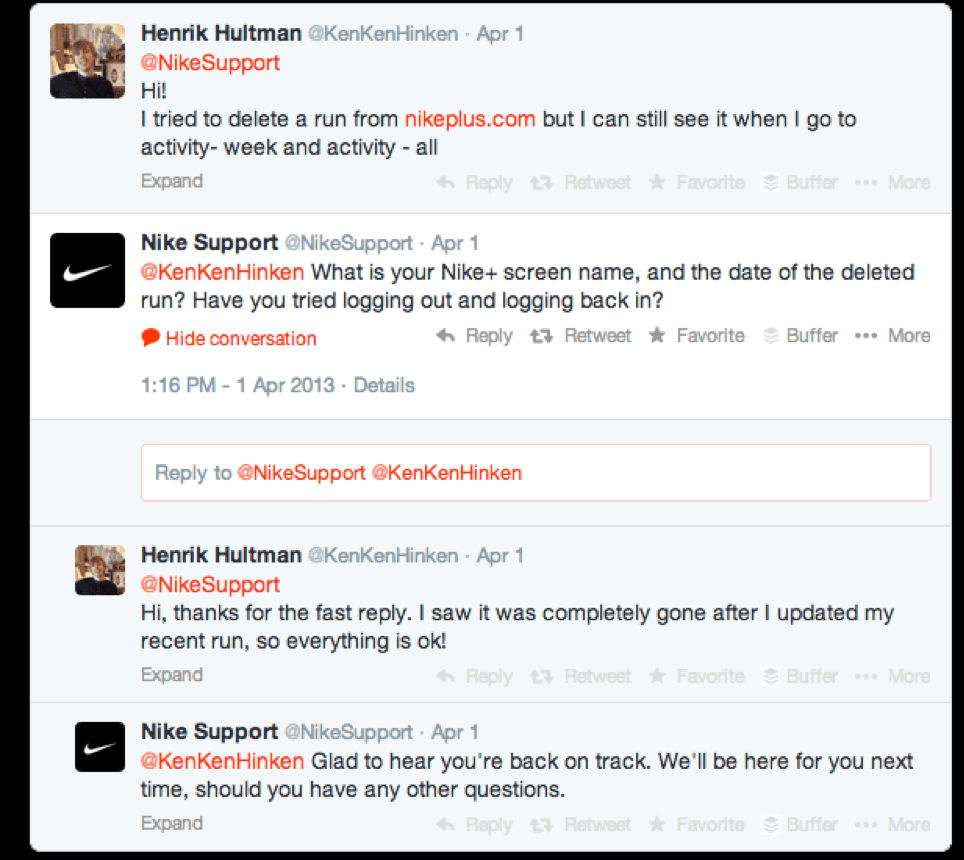 Image Credit: Smartsights.com
If you are struggling with ORM. Take a look at this. An excellent example of Online Reputation Management is done right. 
We understand this… The bigger the brand becomes the harder it is to spare time. As there are tons of other things for you to manage. 
Nike, the big popular brand has a separate Twitter handle. This profile is completely dedicated to handling customer service issues. This keeps every query in one place. Making it easier for the brand to provide customer satisfaction.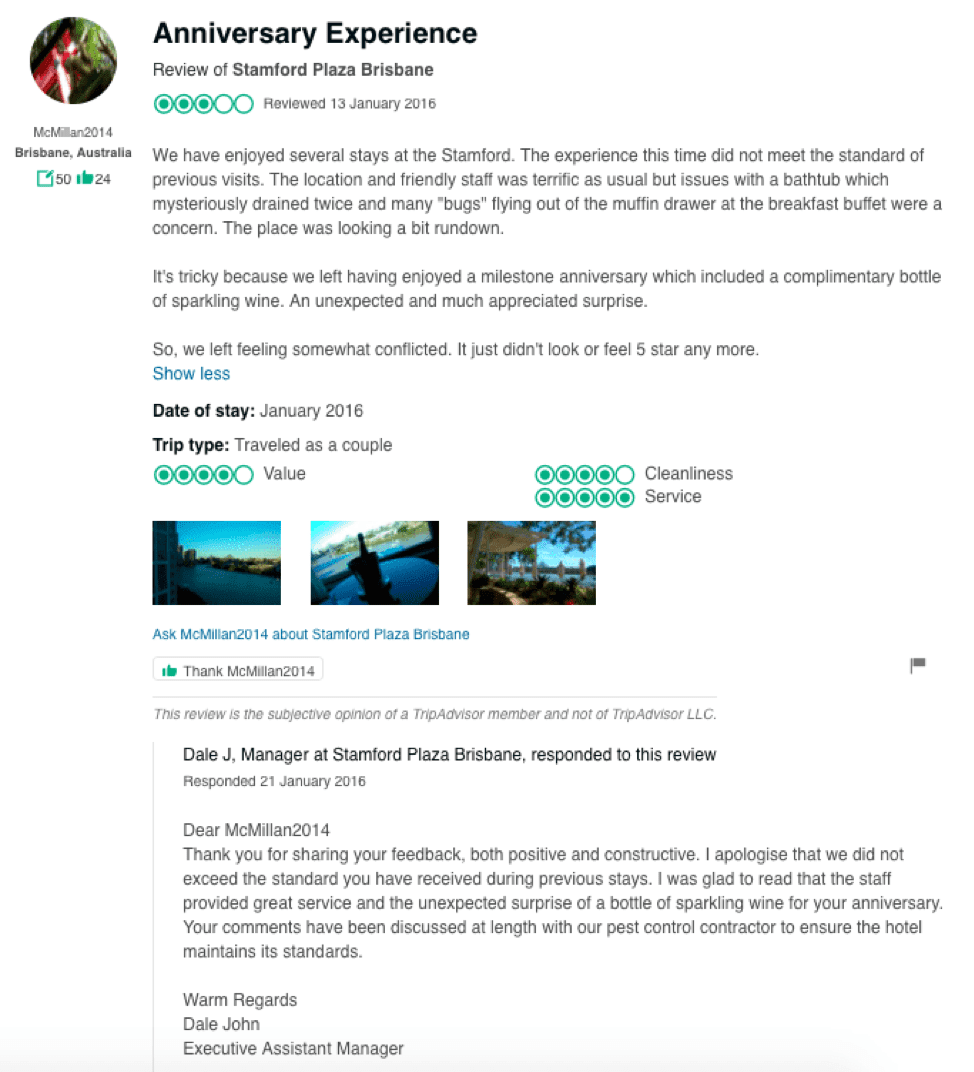 Image Credit: Smartsights.com
Another excellent example of how one must handle the criticism and complaints from a customer who is usually a faithful customer. 
Rather than losing temper, politely addressing the issue is the way to go with it. First, listen carefully to what the customer wants to say. Then, politely provide an actionable solution. Also, make sure that your customer doesn't face this kind of issue in near future.
Another interesting example of Online Reputation Management done right, isn't it? 
Constructive Steps To Managing Your Online Reputation
Your Online Reputation is your reputation. You need to take the right steps to protect it. So, these are some of the powerful strategies for you to follow to create a strong presence. 
BE ACTIVE ON SOCIAL MEDIA
Well, I am not saying to create numerous profiles on different social media platforms and never touch them again. In regards to social media marketing, this one is actually a blunder beginners do. They create numerous social media pages on different platforms. Alas! they fail to manage every platform and complain they don't get results. 
The best way to go with it is to create a social media profile on one or two different platforms where your targeted audiences are most active. 
When your channels are decided. Then, create profiles on those platforms. Provide every necessary detail of your business on those platforms. And actively connect and communicate with your audiences regularly on those sites. Provide them the contents they want to see. The bottom line? Be consistent and regular. 
GO FOR A WIKIPEDIA PAGE 
Mind it, this one is tough. All thanks to the platform's strict rules and guidelines. But if you can make this up for your brand or yourself. This one will surely show up on the search engines. 
Keep one thing in mind Wikipedia pages are editable which means there is a high chance that if your business is indulged with something it will show up in Wikipedia pages as well. 
INTERLINK EVERYTHING
Another excellent way to build your brand reputation is to interlink everything. When you want your content to rank you'll have to build quality backlinks. Similarly, here you'll have to interlink all your online content and build quality links through them. i.e., when you interlink all your content on your website. Your visitors will stay longer on your website. Want to kick-start your career in content writing? Read this first.
Make sure to add social icons to your website. For people to know those social sites belongs to your business. 

Share your blogs on your social sites i.e., put your website link out there on your social sites and local listings

Interlink your website contents

Share your Youtube videos on your website blogs and social media pages
Bottom line?
Link your online content together whenever possible. For people to know your business more. 
RESPOND TO PEOPLE QUICKLY
When you have social sites. People always want you to be active and social. When your audience or a visitor ask queries from your business. Make sure you respond to them quickly. If the query demands some action. Make sure you acknowledge them. Keep in mind, when you respect your audience then only your audience will respect your business back. Keep your audiences your priority. Always be there for them when they need you. This is how you will build a healthy relationship with your customers. 
ASK YOUR CUSTOMERS FOR REVIEWS
This is why building healthy relationships with your customer's matters. Online reviews always matter. People trust these online recommendations more than anything. Keep your customers happy. Ask you're happy customers to share their reviews on your social sites or they can even share videos about their experience with your business. 
When you keep your customers happy. They will become your brand's loyal advocates. Thus, will help your business get more sales as well. Online positive reviews always matter. When people take their time to do so. Make sure you appreciate them. 
KEEP AN EYE ON YOUR ONLINE REPUTATION
The above-discussed are some of the constructive ways to build a strong online presence. Now, it's time for you to keep an eye on your online activities. The cost-effective and free method for you to do this is through Google Alerts
You can create an alert about your name or your brand name. It will notify you through emails when new results show up. Make sure that you monitor all your online activities, reviews, etc. regularly. 
Top Best Performing Tools To Monitor Your Online Reputation
GOOGLE ALERT
I mentioned this in the previous section as well. One of the free Online Reputation Management tools for your business to use. Google owns numerous valuable tools for online marketers and Google Alerts is one of those tools. 
It's simple to use. You'll have to enter your company name there about whom you want to get notified. 
You'll get notified via email of your mentioned via Google database. 
SOCIAL MENTION
This ORM tool observes more than 80 tools including Facebook and YouTube. It will display you numerous information for you to observe and improve your brand's online reputation. For instance, this tool will let you know the ratio of your positive remarks to negative remarks.
Apart from this, it will let you know about the authors who write or remarks about your brand. There are other benefits of using this tool. Overall, this one is another Online reputation management tool. 
SENTIONE
SentiOne helps you to specifically monitor what your customers or others are saying about your brand. Want to know an amazing benefit of SentiOne? Apart from providing you real-time data. This tool will also help you know what people said about your brand in the past even before you started using SentiOne. Amazing isn't it?
You can know the mentions of your brand and other keywords as well. You can almost instantly filter out the keywords as well. Another easy tool to help your brand with the best ORM results. 
THE BRAND GRADER
Another power Online Reputation Management tool for you to use. This tool provides helpful insights into how your brand is performing online. Another simple tool for you to use. 
All you have to do is enter the name of your company and an active email address. And this tool will provide you the insights into your past seven days. It will help you know several things such as how many indications your organization received on blogs or forums. Your social media followers on various social media platforms you are using, and several other insights as well. 
SIMILAR WEB
This tool can provide a concise detail of how a website or app is doing. It will provide you numerous insights into your website. 
This tool is helpful in a way that will let you know how well your competitors' site is performing. You can easily compare your website with your competitors as well. Apart from this, Similar Web provides you similar helpful insights that will help you understand how well your brand is admired within your niche. 
CONCLUSION – ONLINE REPUTATION MANAGEMENT
Many feel that managing the online reputation of a brand is a tedious task. To be honest, it is not if you know how to play the cards right. 
Our business is our responsibility. In today's intense competition managing your business reputation is more than important to survive. 
There are several ways to manage your business online reputation as discussed in this guide above. There are numerous tools out there to make your tasks easier for you. All you need to find the tool that is best suitable for you. 
Businesses who can effectively manage their online reputation will see numerous profits in their overall business growth. 
I hope you found this guide insightful. What do you think about this guide? Do you think I am missing out on something important? Share your opinions in the comments section below.